In 2001, two enterprising logisticians recognized the general indifference that mid-market customers were getting from the larger transportation providers.
Sensing the need, M2 Logistics was started as a freight brokerage firm and has evolved to a thought leader of brokerage and supply chain services.
We strive
to make today better than yesterday
Our culture is built on customer-driven solutions with honesty and integrity in everything we do. Our best practices approach assures consistency and quality in every transaction with a small-company personal touch.
We balance changing priorities in a complex industry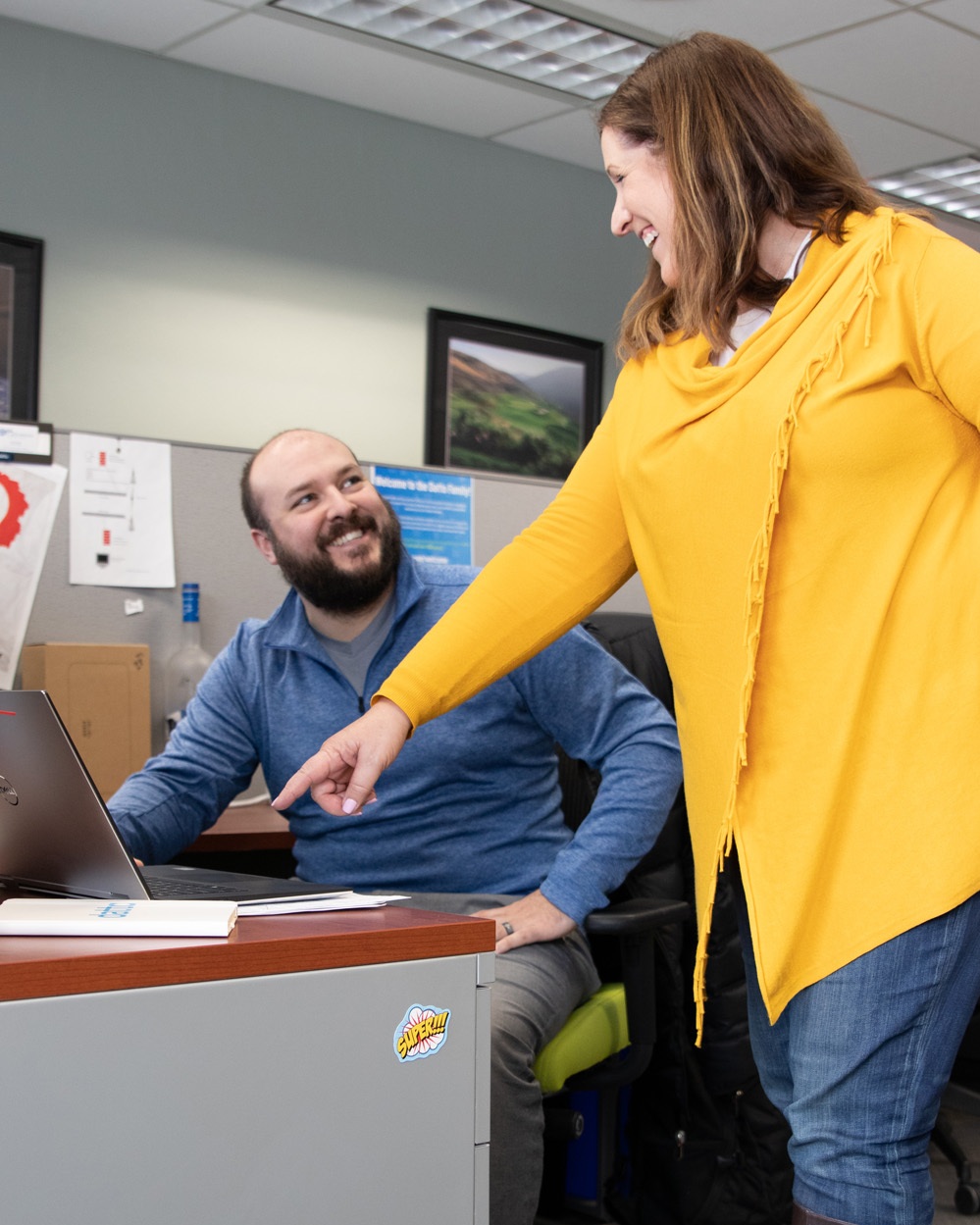 M2 subscribes to the Lean Six Sigma methodology that relies on collaborative team efforts to improve performance by removing waste and reducing variation, in addition to continuous improvement.
M2 voluntarily maintains a surety bond in the amount of $250,000, in excess of the $75,000 federal requirements to show our dedication to protecting and honor our relationships and commitments with carriers and customers
We trust and respect those around us as partners
M2 senior managers average more than 25 years of experience in the logistics and transportation industry. Some of our managers come from manufacturing and distribution industries which provides another level of experience and understanding
We spend more time thinking about how things can work
Select M2 associates have the Certified Transportation Broker designation. This demonstrates a knowledge base, professional integrity, and professional commitment related to the logistics and transportation field.
We care as much for our customers and the people we work with as we do for ourselves. We have an active voice in the success of the business and be confident enough to raise issues that improve the quality of our service offerings and results
M2 is a member of the
Transportation Intermediaries Association (TIA)
the premier organization for third-party logistics professionals.
Paul Anderson
As a founder of M2 Logistics, Inc., we had a vision for adding value to our customers and carriers by taking a long-term approach to our business relationships. Our business is based on elementary principles; treat our customers, carriers, and our M2 team with dignity and respect, and to demonstrate the highest quality of service to our customers.
During my 30 plus years' experience I have gained valuable insight into many different industries, allowing M2 to understand the challenges our customers and carriers face every day. Having led the supply chain efforts for manufacturing and distribution organizations, I gained indispensable understanding of the leverage points that drive our customer's strategic plans. Shippers think about on-time pickup and delivery, go-to-market strategies that create a competitive market advantage, and matching inbound vendor management and outbound shipping needs. Carriers look at safety, asset utilization, driving operational excellence and superior service to the customers. Our drive at M2 is bring these two worlds together to act as one for a common goal that delivers results that positively impact each other's business results.
We know that our customers are the reason we come to work each day and do what we enjoy. Each member of the M2 team takes great pride in servicing our customers in extraordinary ways by exceeding expectations. Our business continues to evolve because the challenges that our customers and carriers face continue to evolve. We will lead these transitions by listening to the dynamics of the market places we service and anticipating the next generation of business needs that separate M2 from others in our space.
Mike Sullivan
Mike Sullivan is a founding partner of M2 Logistics, Inc. He saw that the brokerage industry was dominated by a couple of industry giants and knew they could provide a better solution for mid-market customers; hence, the name M2 Logistics (mid-market).
Mike is still involved in many aspects of the business which includes providing leadership in Business Development and overseeing a number of our large accounts.
He started his career in the Material Handling Industry and helped build two outside sales/service offices which then led him to the transportation industry. His 30 years in transportation in a variety of roles includes LTL, TL (Dry and Refrigerated), Dedicated, and Transportation technology which helped lead he and his partners to the creation of M2 Logistics.
Mike graduated from the University of Wisconsin Stout with a Business degree.
Outside of M2 Logistics, Mike enjoys travel and sports, including golf, skiing, hunting, and snowmobiling. He and his wife Terri enjoy their time with family and grandchildren, along with friends, at their lake home in Northern Wisconsin.
Joe Klim
Joe Klim has worked within Supply Chain Management his entire career. Upon graduating from the University of Wisconsin – Oshkosh in 1998 with a BBA in Operations Management, he had the opportunity to work in a leading edge supply chain at a Fortune 500 consumer products company. During his 20 year tenure, he was involved in every aspect of the supply chain from forecasting and planning through final delivery to the customer. He was responsible for leading the integration of the supply chain for four large business acquisitions and several ERP implementations.
The next chapter of his career took Joe to Third Party Logistics (3PL) where he had the opportunity to design several supply chain solutions for multiple customers in various industries. He became a Lean practitioner and led multiple continuous improvement initiatives for customers.
Joe joined the M2 Logistics team in July of 2015 to lead the newly formed Supply Chain Services division. He brings 30 years of experience and enjoys the challenge of understanding each customer's systems, needs, and nuances.
Outside of the office Joe enjoys the snow because he's an avid snowmobiler. He also enjoys spending time at his cottage in the North woods.
Glen Falk
Glen Falk began his work career in the insurance industry after graduating with honors, from the University of Wisconsin – Platteville with a degree in Criminal Justice. After 5 years of working for one of the nation's largest insurance companies in Chicago, Glen returned home (Green Bay) to begin his Transportation career with one of the nation's largest asset truckload provider.
During his 20 year tenure, Glen held numerous customer facing and operational roles , at times leading the efforts of over 100 associates servicing some of the nation's largest regional, automotive, and retail organizations. The latter half of Glen's tenure was focused exclusively on new business and product development with the build out of brokerage and third party logistics capability across most transportation modes to provide new revenue streams beyond company owned assets.
In 2011, Glen accepted the role of Vice President – Business Development with a Green Bay based 3PL provider, with accountability to build a fully functional turnkey brokerage operation. In less than five years, revenue soared from start up to nearly $20M annually. In addition to transportation solutions, Glen also gained exposure to a number of other logistics services, including warehousing, contract packaging, outsourced labor, DC operations, international, TMS systems and domestic/international crating.
In 2016, Glen accepted the role of Vice President – Sales and Marketing with M2. Glen follows a simple process: LISTEN to the 'voice of our customers' developing CREATIVE solutions and providing DIFFERENTIATED execution for the LONG TERM.
Glen is an avid sports fan, with special interests toward football and hockey. He and his wife enjoy traveling, experiencing new places and learning about other people. Glen is also an avid hiker whom enjoys practicing amateur ornithology while on his hikes. (Or, as his kids say it….'dad is a bird nerd!')
Bob DeVos
Bob DeVos is Senior Vice President, Business Development of M2 Logistics. Prior to re-joining M2 Logistics, Bob spent 15 years with GENCO, with the responsibility of leadership for Sales and Marketing of Logistics Services to include transportation management, brokerage, parcel mediation, and transportation engineering. During his tenure Mr. DeVos led a sales organization that delivered over $1 billion dollars of transportation under management and averaged a 65% year over year growth rate with annual net revenues of $20 million. Mr. DeVos became the knowledge leader of transportation services for GENCO and participated significantly in national sales programs that combined warehousing, transportation, and engineering in the pursuit of savings and service enhancement for GENCO customers.
Mr. DeVos also spent 22 years with Schneider National, where he provided key leadership in the areas of operations, customer service, and sales. During that time, he was significantly involved in new product ventures for Schneider. In 1984 he assisted in the creation of Schneider's Dedicated Division and, as General Manager, led the division to 100 plus contracts with several Fortune 500 companies in the U.S. In 1993 Bob assisted in the formation of Schneider Logistics. From a base of zero revenue, he led the business development effort of Schneider Logistics, which grew to $2 billion of managed freight by the year 2000.
Bob received a Bachelor degree in Business Administration from the University of Wisconsin, Green Bay. He is a frequent publisher in the area of transportation and logistics for notable trade journals. He is a member of the Council of Logistics Management, and was a former Trustee to the Chancellor at the University of Wisconsin, Green Bay for more than ten years.
Brett Eifler
Brett Eifler graduated from the University of Wisconsin - Oshkosh in 2000 with a major in Marketing and Finance. After spending the first few years of his career managing a temporary labor office, then selling home mortgages, he settled in to his career in Logistics.
Brett moved to Chicago, IL as one of the initial 12 sales associates to help start a Brokerage division for one of the nations largest asset truckload carriers in 2005. One year later he relocated again, this time to Dallas, TX, to help open the 2nd location for this same organization. After spending the next 9 months as one of the top sales producers he was then promoted to Sales & Operations Manager in June 2007. For the next 2 plus years Brett led a team of 15-25 sales representatives selling non-asset solutions to customers. In 2009 he moved into a Regional Brokerage Operations Manager role providing a sales perspective to the operational team, while leading the team of 16 brokers.
An opportunity to open a brand new regional startup office in Dallas for a global supply chain organization came about in June 2010. Brett acted as the Regional Manager of that startup office, and was responsible for building both a sales and operations team of 12 individuals over the next 2.5 years. In late 2012 that office was part of an acquisition of another global supply chain organization. He successfully merged his team with an existing Dallas team while overseeing both sales and operations functions. In March of 2015 Brett was promoted to Branch President of the Dallas office in which he served in that capacity for another 2 plus years. During that time, he continued to grow the team organically as well as oversaw an acquisition and incorporated the 2 teams as one.
In Oct 2017 Brett accepted the role of Senior Vice President of Logistics overseeing sales and operations in Green Bay, Dallas, Denver, and Salt Lake City. Brett has always been a firm believer in coaching and developing people to provide the best customer and carrier experience while differentiating ourselves from our competition, and M2 Logistics delivers on that value proposition.
Brett is an avid sports fan in general while enjoying football and golf the most. He and his wife enjoy traveling, attending sporting events, trying new restaurants, and experiencing the outdoors. He is originally a Green Bay boy, but Dallas is home now.
FOUR LOCATIONS TO SERVE YOU ANYWHERE
Dallas | Denver | Green Bay | Salt Lake City